Saudi Aramco, a national oil company in Saudi Arabia, announced the initial public offering (IPO) launch scale and target price range scheduled for December. The company will sell 1.5% of the shares in the country and raise up to $ 25.6 billion (about 2.8 trillion yen). Aiming to be the "largest IPO ever", over $ 25 billion procured by the China Alibaba Group in 2014.
The funds raised are planned to be used for Saudi reform without relying on oil, the flagship of Crown Prince Mohammad.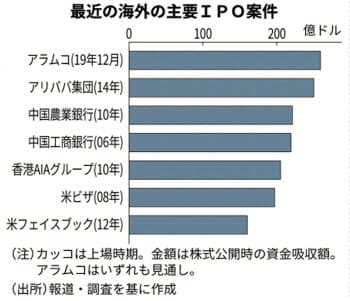 Aramco officially started accepting purchase requests for IPOs on the 17th. The target stock price set by Aramco is 30 to 32 Saudi Riyals (approximately $ 8 to 8.53). With 200 billion shares issued, the company's value is 1.6 trillion to 1.7 trillion dollars, surpassing Apple and Microsoft in the US with a market capitalization of over 1 trillion dollars.
Aramco, the world's largest oil company, made a net profit of $ 111.1 billion in 2018, nearly double that of Apple. However, against the backdrop of the slump in crude oil prices and geopolitical risks in the Middle East, the market has a strong strict view of Aramco's value. Aramco is the first to admit that the Crown Prince hasn't reached the $ 2 trillion alleged.
Procured funds will be used for infrastructure development and education funds, as well as government funds and public investment funds (PIFs) investing in domestic and overseas markets and using returns for future generations. PIF invests in a "vision fund" created by SoftBank Group .
Saudis and foreign investors residing in Saudis will apply for purchases by November 28th. Sales activities for domestic and foreign institutional investors officially started on the 17th. The deadline for all applications is December 4th. Aramco will announce the final offer price on December 5th.
Saudi will implement Aramco's IPO in two stages. Prior to listing on domestic stock exchange Tadaul, IPO in overseas markets after 20 years. The company plans to make 5% of the 200 billion shares of common stock with no face value and voting rights publicly available. In addition to Saudis, foreigners living in Saudis can buy stocks as individuals.