Six months ago, Elena moved to Turkey with her husband and three children. During this time, they found an apartment, received a residence permit, studied the Turkish educational system, chose a school for sons and looked at the local hospitals with their own eyes. As part of a series of materials about compatriots abroad , Lenta.ru publishes Elena's story about moving to Antalya.
We are a big family, there are five of us: husband, wife and three children. They did not complain about poverty in their homeland. There was a big house, two cars, traveled a lot in Europe, Asia, Africa. Children studied at a good school, the youngest was put on the queue in the kindergarten. But we only did that we earned money. Work, home – and all. In the morning, when we leave, it's still dark, we return in the evening – it's already dark. If you walk, then with the children on weekends, and without much desire.
Everyone has his own reason for moving to another country, and we found him for ourselves. The last straw was when the children did not want to return from vacation abroad and asked us to stay. After that, moving became the main topic of conversation in our family.
We spent a year studying various options. Europe did not fit: it's difficult for such a crowd to go there with Russian passports. Even with a two-year tourist visa, a Schengen is given for only 90 days of stay for six months. And children need to learn.
Everything changed the case. Our close friends, who are also fine with work and money, moved to Turkey for permanent residence. They just bought an apartment there and decided to stay. The first year of living in Turkey went quite smoothly, so we rushed after them.
As it turned out, Turkey is one of the few countries where it is easy to obtain a residence permit. To do this, you do not need to buy an apartment, open a business or have a lot of money in your account. It is enough to rent a house for a long period and provide a lease agreement to the migration service.
This information was enough for us. We decided that we would go to Antalya for the summer and, if everything works out, we will stay. If you wish, you can always come back, the benefit is to fly close.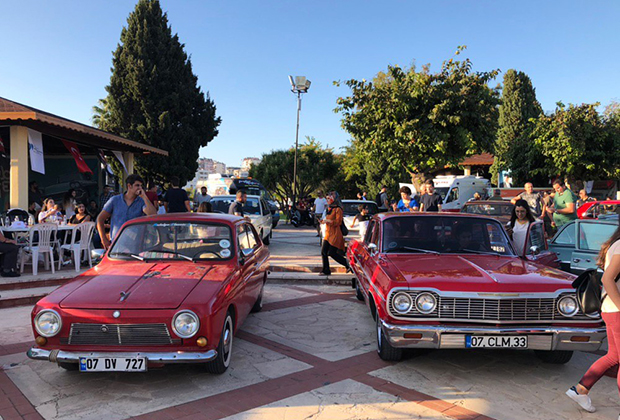 Photo: provided by the heroine of the material1/6
They wrote about finding an apartment in one of the social networks and by the evening of the next day received a dozen offers. Partly by way of exclusion, partly thanks to the beautiful girl-realtor they chose exactly what suited both the situation and the price: 2.3 thousand Turkish liras (25 thousand rubles) per month for a completely European apartment in a modern residential complex with a swimming pool, parking and oranges in the yard.
As of August 2019, the cost of long-term rental of an apartment 2 + 1 (two bedrooms and a kitchen-living room) within walking distance from the sea in Antalya starts from 1.6 thousand Turkish liras (18 thousand rubles). In the city center you can find much cheaper.
We arrived in April 2019. From that moment on, our life has completely changed. We carefully tried to live in a new way, like a hostess who carefully tastes a hot dish. Slow walks along the absolutely European promenade, hot coffee with amazing pastries, gatherings by the sea, Turkish bazaar … Within a month it became clear that we did not want to go back.
***
The housing issue has been resolved. Now it was necessary to deal with the education of children. There were three categories to choose from: public, private or online schools.
Public schools accept children from five years old who live in the same area where the educational institution is located. Parents must provide a residence permit for themselves and the child. If you have just moved, and the document has not yet been received, it's not scary: in this case, the child is listed as a listener, and the document can be submitted as soon as possible. In addition, they will ask for a long-term contract for renting an apartment, and if the child does not go to first grade, then also a certificate with grades from the Russian school.
Classes at the public school begin early, at 7:30 in the morning, and end around 13:00. In each class from 30 to 40 people. There are no school breakfasts and lunches, so children need to give food with them. Some have to study in the second shift, but for poor progress they can leave for the second year.
We were scared off by bad reviews. Most often, parents complain about dirt in schools. The equipment of the classes also leaves much to be desired – students have to sit at very old desks. They say that fights often happen. And most importantly: there is chaos and chaos in the classes, and many students do not put teachers in anything. Apparently, because of this, the level of education in the country is frighteningly low.
Private schools, by contrast, seem like paradise. Almost every private school in Antalya offers from 14 hours of English per week, and from the third grade also a second language – for example, Russian, Spanish or German. In the classroom, there are no more than 15 people, so the teacher manages to pay attention to everyone. Another plus is that in private schools there are many Russian-speaking children – there will be someone to communicate with.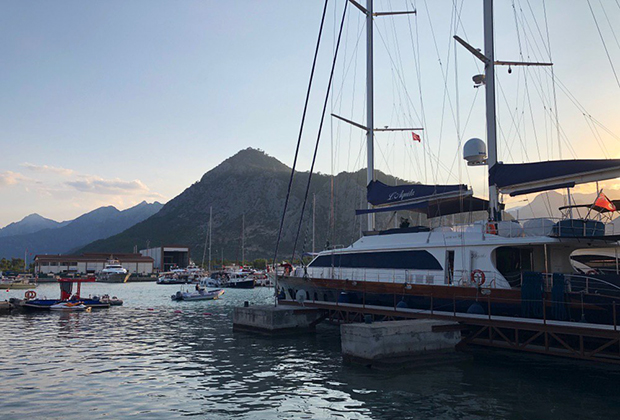 Photo: provided by the heroine of the material1/5
Lessons begin at 8:30 and end at 17:00. In music classes, children do not sing, but learn to play musical instruments; You can choose a violin, piano, guitar or drums. Physical education is also diverse: dancing, gymnastics, tennis, volleyball, basketball, acrobatics and so on. Classrooms of chemistry and physics are similar to real laboratories, there is even an item called "robotics". Near the school there are a lot of greenery, sports fields and places for recreation.
As for online education, it is chosen by people who do not want to send their children to a Turkish school. Pupils attach themselves to a particular Russian school and study independently, passing control tests according to the curriculum. We decided that this option is definitely not suitable for us.
As a result, older children were identified in a private Turkish school. In Antalya, this pleasure costs from 227 to 340 thousand rubles a year. Bargaining is possible, and since we have two students, we fought to the last.
***
The next important task was to obtain a residence permit. Without it, we could be in the country without departure only 60 calendar days and another 30 after departure. The Turkish Migration Service is fast and clear. We filled out questionnaires on the site, prepared the documents and received the date and time of the interview. On the appointed day, they dealt with him in just an hour, and a week later the postman brought plastic cards to all family members. On this, the question of the status of stay in Turkey was closed.
We have three children, and so far we can't do without the help of doctors. Upon receipt of a residence permit, medical insurance is issued without fail, only the number of services that can be used for it is very limited.
Russian-speaking people like to scold Turkish medicine. Judging by the posts on social networks, children's dentistry in Turkey is really rubbish. If a child needs special designs in his mouth, it is better to do them at home. Finding a good dentist for adults is also not easy, but there is a chance. But to give birth in Turkey, they say, just cool. Cesarean – at will, everything is very cute and white and pink. The hospital facilities are excellent. Any analyzes, snapshots, anything you like – will be done quickly, but expensively. At the same time, doctors are rumored to be not particularly competent. If you want to hear the opinion of the pros, you need to sign up at the university hospital, where professors are admitted. They, they say, are real gurus, but this is always a paid service.
Since April, I have twice come across local medicine. The first time in June, when a nine-month-old daughter caught rotavirus. She is my baby, so we decided to visit a doctor. Hospitals in Turkey are divided into public and private. We went to a private. We were offered to leave the child for a day and drip. The room is single, comfortable, has a TV, bathroom and a berth for the parent. Very friendly staff and a very tasty dinner. In addition, each hospital has a Russian-language translator.
The next day we were discharged, and a couple of days later I drove to the insurance department and paid 200 lire (2.2 thousand rubles), which amounted to 20 percent of the total cost of our hospital stay (not a single insurance covers all 100% of expenses) .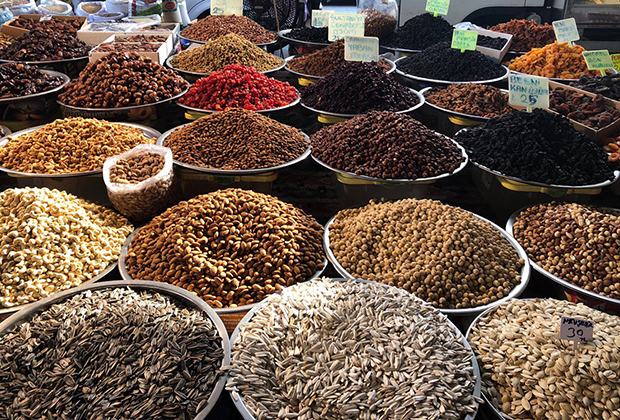 Photo: provided by the heroine of the material1/6
The second time was worse: my daughter choked on cookies. I remembered the video with the lessons of salvation, grabbed her leg, turned her head upside down and began to knock on the back. It didn't help at all, so she handed it to her eldest son, and we rushed to the already familiar hospital, still holding the child upside down. In the emergency gang, cursing all the small cars in the world, we flew to a private clinic in seven minutes. I, the son with the "upturned" daughter, who was constantly coughing and had already turned slightly blue, and my girlfriend, who we caught along the way. A friend frantically explains our problem and … gets advice to go to a state hospital.
Five minutes of flight – and we are in the state hospital. The picture is the same, only the daughter coughs less. At the counter, they solemnly give me a questionnaire to fill out, and the baby put a heart rate monitor on her leg. In short, in the end, she coughed, we got an x-ray for 200 lire, and we went home.
In general, we also coped with medicine, we are mastering it. Moving is not so scary! Life goes on, the sea is near, six months have passed – and the details are in our telegram channel @TurkeyLive .More stories about the life of Russians who have moved to other countries are in the story "Russians Abroad" .If you want to tell your story, send letters to the email box [email protected].