According to a September household survey released by the Ministry of Internal Affairs and Communications on the 8th, the consumption expenditure of two or more households was 300,609 yen per household. In real terms excluding the impact of price fluctuations, it increased by 9.5% compared to the same month last year. The growth rate exceeded the previous consumption tax hike in March 2014 (7.2%), reaching a record high in 2001 and after that. The last-minute movement before the tax increase was clearly seen in home appliances and daily necessities.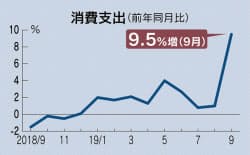 Consumer spending increased for the 10th consecutive month, the highest ever. The seasonally adjusted value compared to the previous month also increased by 5.5%, which was a positive for the second consecutive month. The basic judgment of consumption that had been "picking up" until the previous month was changed as "Temporarily increasing due to the last minute". The Ministry of Internal Affairs and Communications is willing to keep a close eye on consumption trends, including the degree of backlash after October, as "what will happen in the future" (Consumption Statistics Division).
Looking at consumer spending by sector, "Furniture and Household Goods" increased by 60.3%. The growth of home appliances was remarkable, with the electric refrigerator 3.4 times and the vacuum cleaner 2.8 times. Consumables such as detergents and toilet paper also seemed to have rushed, increasing by around 50%. "Health and medical care" increased by 26.3%. The items that can be stocked, such as 95.7% for contact lenses, 53.4% ​​for nutrients, and 38.8% for disposable diapers, showed high growth.
Consumer spending for July-September announced on August 8 increased 3.7% year-on-year. The rapid increase in September is partly due to a backlash in consumption due to a major typhoon in the same month last year. Excluding temporary seasonal factors, it is said that the current run is weaker than before the previous tax increase.